Conducted by the Cognitive Sciences Department, this research delves into the auto buyer decision process, from selecting a vehicle to choosing an insurance policy and the effects of inflation on vehicle purchases to help brands improve their automotive marketing and analytics results.
Auto Buyer Decisions Are Based on Multiple Factors
Auto brands, marketers, and data scientists know the importance of reaching the right customers at the right time in their decision-making process. Presenting automotive marketing and product-offering information in a clear and easy-to-comprehend manner provides confidence to your customers and prospects. This is true whether they are searching for a new vehicle or deciding what auto policy will meet their needs.
The Cognitive Sciences Department at AnalyticsIQ took a deeper look into consumer decision-making and auto buyer purchase processes. This process began with a nationwide survey to evaluate several aspects of the car buying and automotive insurance consumer experience. Once we collected the data, we conducted two separate paths of analysis to deliver meaningful insights to the distinct groups within the automotive marketing community:
Auto Insurance Providers –

Download Report Now

 →

Vehicle Sales –

Download Report Now

→
Auto Insurance Research
This research is important for carriers to not only improve acquisition efforts but also reduce churn for existing policyholders. This current, real-life data provided a clearer picture of the average consumer profile for automotive insurance providers.
DOWNLOAD THE AUTO INSURANCE RESEARCH NOW →
This research took into account multiple factors:
Number of Policies & Vehicles

Current Policy Coverage

Payment Types & Frequency

Top Auto Insurance Carriers

Likelihood to Switch Carriers
Reasons a customer will switch insurance carriers
Historically, marketers have faced difficulties in gaining market share. This is partially due to customer loyalty towards the competition. Without giving consumers a drastic reason to switch carriers, they are unlikely to win new customers. 
What keeps customers loyal? 
Unsurprisingly, when consumers feel their current insurance policy is affordable, they rate their satisfaction with their current carrier higher.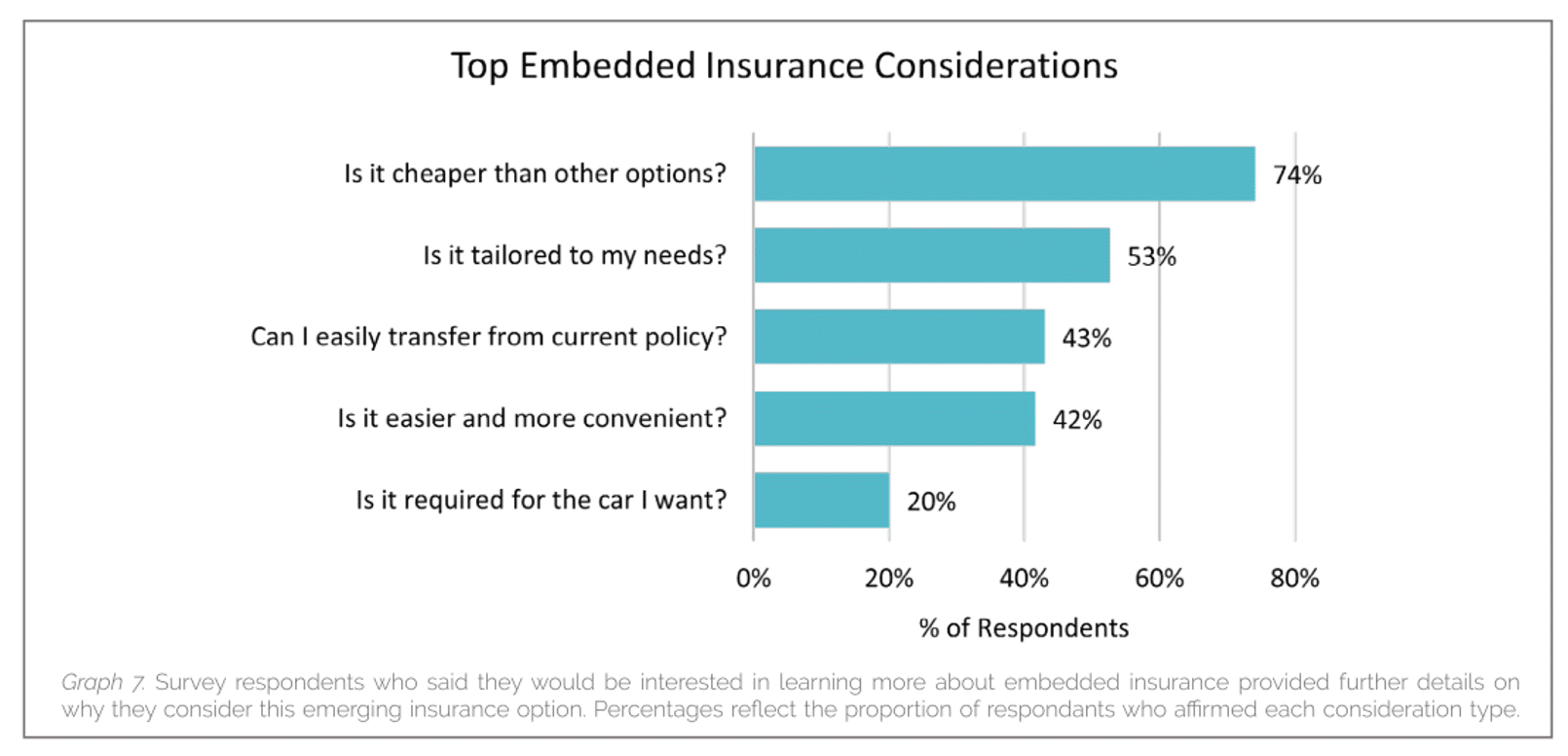 Embedded Insurance Opportunities in Auto
Major automotive manufacturers are using the innovative offerings of embedded insurance with new vehicle purchases. This new way of approaching coverage is a major innovation within the auto insurance industry.
While very few respondents reported currently having an embedded policy (<1%), 87% were interested in learning more about it. The top reasons for curiosity were around the opportunity for lower cost, customized coverage, and potential ease of transferring from their current policy.
87% of respondents were interested in learning more about embedded insurance offerings
Car Buying Trends
The second category of insights focused on vehicle purchase trends. This research is not only impactful for auto manufacturers, but it also affects dealers, auto research providers, fuel providers, and more.
DOWNLOAD THE AUTO PURCHASING RESEARCH NOW →
This research took into account multiple factors:
Current vehicles per household

Ownership status (currently owning or currently in-market for a vehicle)

Fuel type (gas vs. electric)

Standard demographics including age, gender, education, political leanings, and more
The rise of electric and hybrid vehicles
Electric vehicles have risen in popularity throughout Covid-19 and that trend is continuing. Current ownership shows that most vehicles are still gas-powered (91% over 9% electric). 
However, when it comes to in-market consumers, there is nearly an even split between interest in gas and electric-powered vehicle options. 
51% of in-market vehicles shoppers are seeking either a hybrid or electric vehicle
Auto Buyer Purchase Discovery
Regardless of fuel-type preference, several factors were consistent across all groups: purchase preparations. When beginning to look for a new vehicle, three out of the top five steps respondents took were online. Some of these online actions include accessing makes and models, visiting dealership websites, and researching fuel types. 
All of these online activities ranked above talking to others and even visiting a dealership in-person. This confirms that a dealership's virtual presence and accessibility directly impact an auto buyer consumer's decision to purchase what, when, and where.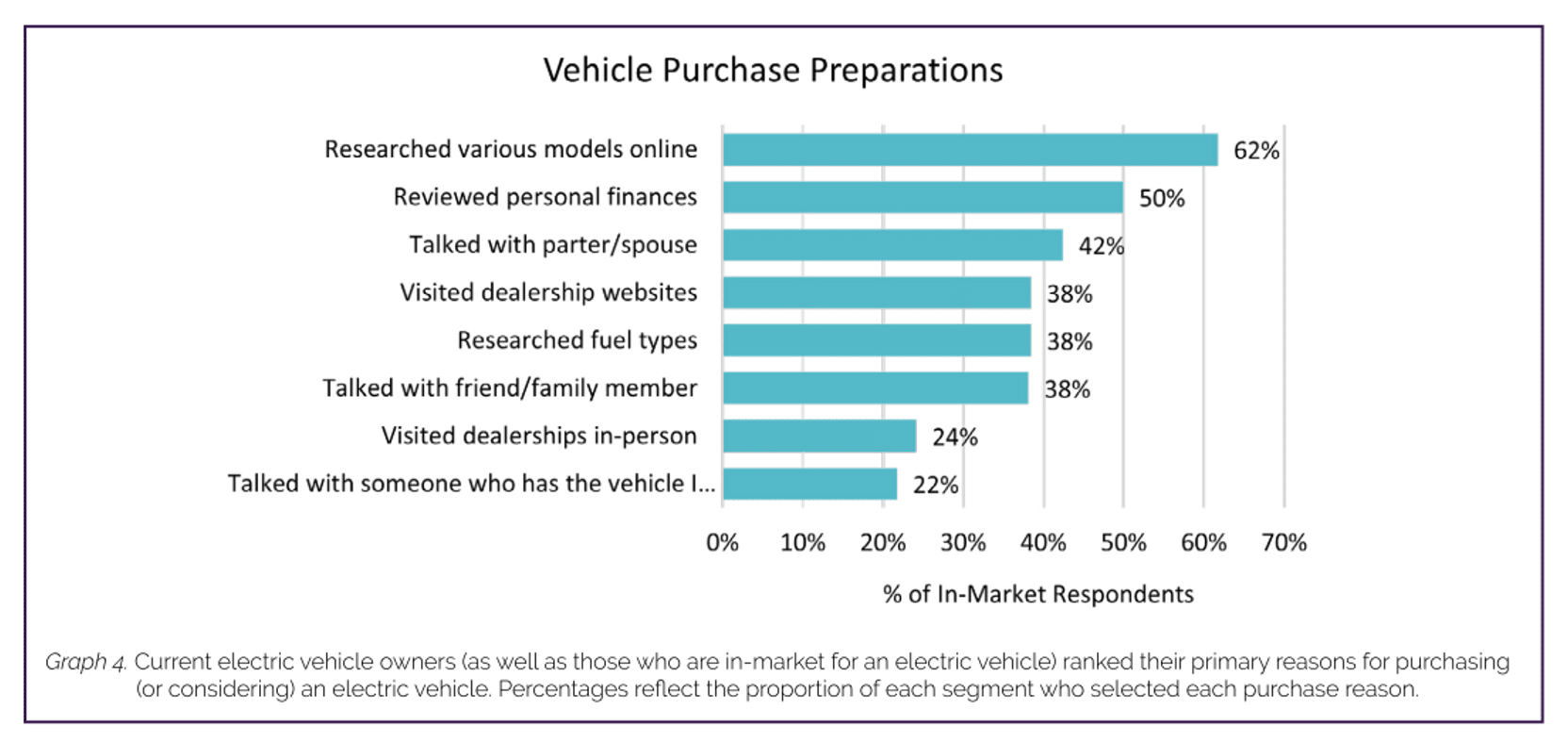 Applying Understanding to Consumer Outreach And the Buyer Decision Process
As always, knowledge is power for consumers making large auto-related decisions — but the same applies to automotive marketing.
Staying ahead of the curve on consumer considerations, the financial outlook for the future, and lifestyle needs give an advantage to those with a need to reach in-market buyers. The quickest path to successful automotive marketing strategies is personalizing communications and highlighting ideal-fit products.
About the Department of Cognitive Sciences at AnalyticsIQ
AnalyticsIQ leverages research rooted in the combined power of cognitive psychology and data science to create unique and predictive data. Unlike a typical "survey", all our questions are designed by real cognitive psychologists to reliably get at the WHY leading consumers to make decisions.
This unique type of data is helpful in times when consumer behavior is evolving — and previous behaviors alone are not enough to predict future behaviors.
This is also important for brands releasing brand-new product types that may require custom research to craft an ideal audience. For example, in 2008, before Uber was widely available, how would a rideshare app marketer know which audiences to target? Without predictive data, they were likely guessing based on loosely related segments like taxi users or business travelers and potentially missing the opportunity to identify their true best customers.
So if you're looking for a specific data variable that you're not sure exists — no problem. Our Cognitive Sciences team focuses on solving for market changes and understanding consumer behaviors every day. Reach out today by emailing sales@analyticsiq.com, and let's brainstorm. We speak geek!