Beware: Big advertising ROI up ahead.
We help organizations across industries with annual data budgets ranging from a minimum of $25,000 to $1M+ and anywhere in between. If that sounds like you, we're excited to design a solution that meets your specific needs.
If you are interested in using our on-demand digital audiences starting today, check out our Partners page for a full list of the data, analytics and ad tech platforms where you can access AnalyticsIQ's audiences 24/7.
​AnalyticsIQ pricing model can align to your business needs. Whether you would prefer to pay a CPM (cost per thousand records) for usage, license the data for specific use cases or lock in a multi-year agreement for additional pricing efficiencies,
let's talk.
Absolutely. Some data companies offer a "one-size-fits-all" approach. Not AnalyticsIQ. We have a robust portfolio of data-driven solutions spanning B2C, B2B and identity data as well as expert services like custom research, predictive modeling, activation and analytics. If you book a strategy session with AnalyticsIQ, your vertical strategist will work with you to create a flexible package that meets your timelines, budget and bandwidth.
Request your strategy session here.
AnalyticsIQ isn't just another "data provider", we're a data innovator. Year-round, our team of PhD's and data scientists are curating the predictive, proprietary data you can't find anywhere else. On top of that, our account strategists leverage their vertical expertise to ensure clients are maximizing the power of this data through powerful, innovative use cases. With this combination of unique data alongside consistent client results, it's no surprise that organizations like the Martech Breakthrough Awards have recognized us as the
"Best Predictive Analytics Solution."
Our pricing approach corresponds directly to the high value we know it can deliver to organizations.
Not only does AnalyticsIQ offer flexible tests agreements, but with annual or even multi-year terms, your team can take advantage of price efficiencies. Moreover, your team will receive ongoing access to our most up-to-date data set and a constantly growing set of proprietary data attributes.
Unlock insights
Our 1500+ attributes reveal your audience's demographics, behaviors & motivations.
Personalize experiences
Craft ads, product offers and site content as individualized as your audience.
Boost conversions
Cut waste and increase ROI when you show ads to only the most relevant people.
Go cross-channel
Easily activate your audiences for direct mail, digital, mobile, audio, video and even advanced TV.
Connect with your next customer across any channel.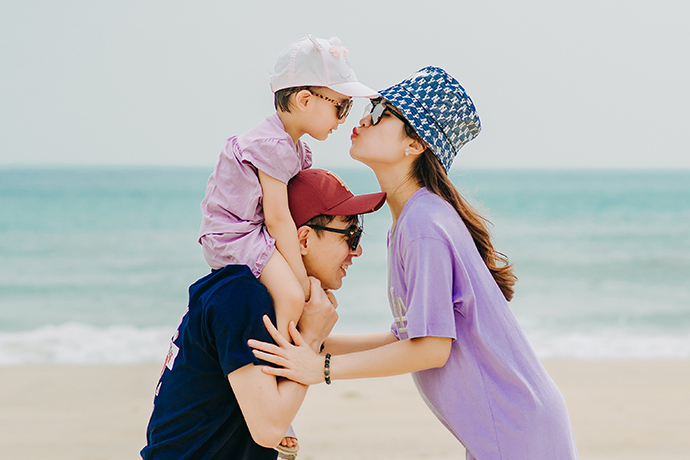 You just found the data you need
Marketers rely on AnalyticsIQ's data to enrich their first-party data, identify prospects, and segment audiences. We are data innovators who've built over 1500+ predictive data points that pinpoint who people are, what their behaviors are, and why they make the choices they do.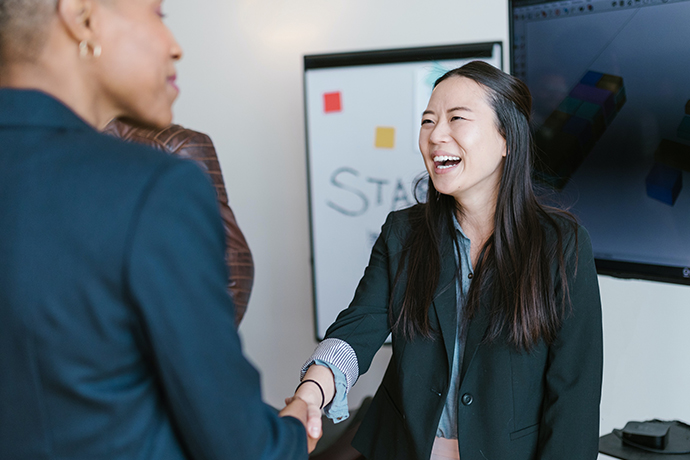 Connect across the journey
Whether your campaign goal is awareness, downloads, sales or store visits, we make it easy to target your best audience across channels. Activate custom audiences through our partners, like LiveRamp, or start with our standard audiences available today across leading DSPs, DMPs and data marketplaces.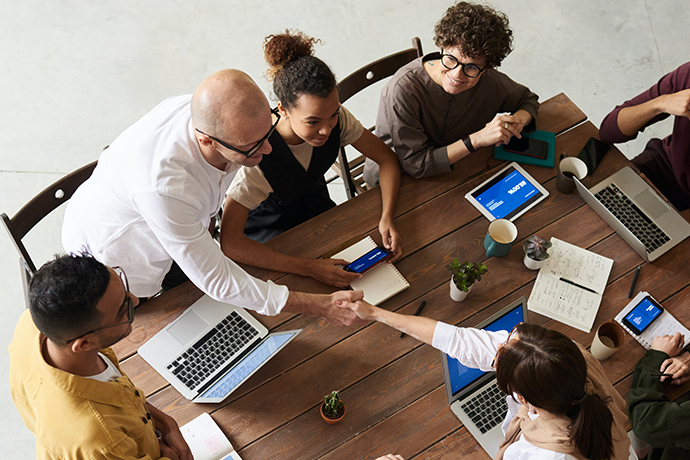 Targeting tailored exactly to your brand
Are you launching a new product? Trying to tap into a new market? Or simply want a competitive edge? Our team of data gurus can execute custom research, analytics and models that answer your unique business questions.
Your channels. Our data. The best results.
Direct Mail
Digital
Mobile
TV
Audio
Leverage our accurate, comprehensive national consumer database, PeopleCore, to build the perfect audience. We have 1500+ attributes including age, marital status, income, spend, interests, motivations and so much more.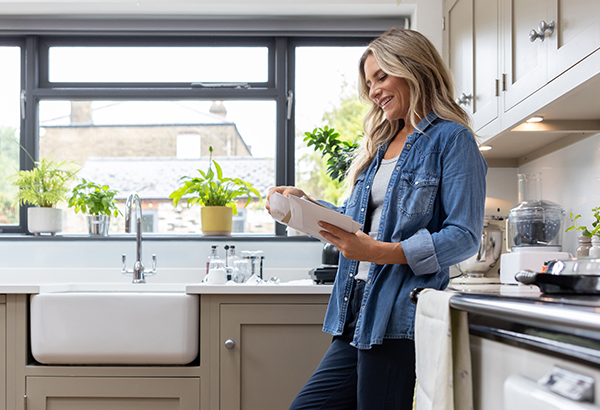 From Facebook to Google, brands and agencies can easily activate our audiences across the media platforms critical to their advertising campaigns. Onboard custom audiences through our partners like LiveRamp and Neustar. Or use a standard audience available today on all leading DSPs and DMPs.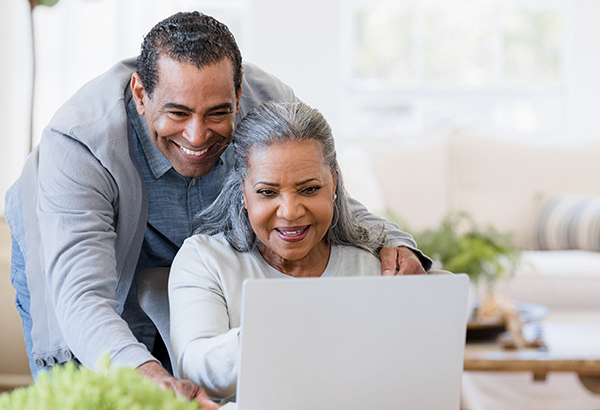 Looking to target your perfect audience across their number one device? Not only do we have data that can help you pinpoint people who prefer mobile ad experiences, but onboarding your audience for mobile targeting is a straightforward process.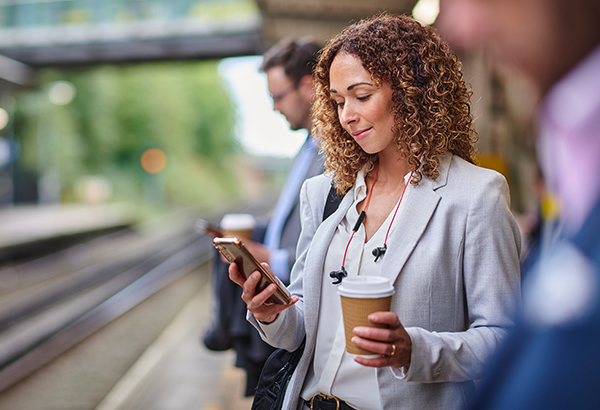 CTV (Connected TV) and OTT (over-the-top) advertising is exploding. Get in on the action and launch one-to-one, household-level campaigns. We make it easy to send your AnalyticsIQ audiences to key platforms like Roku, Hulu and The Trade Desk.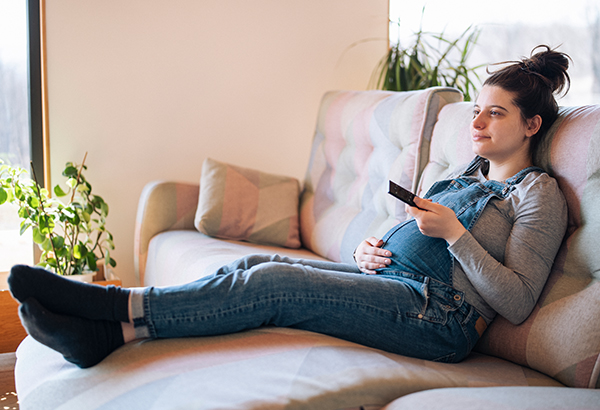 From podcasts to audiobooks, sound is the latest hot marketing tactic. Understand the listening habits of your best customers and prospects to better inform planning. What platforms and devices do they use? How long do they listen and when? Get answers now.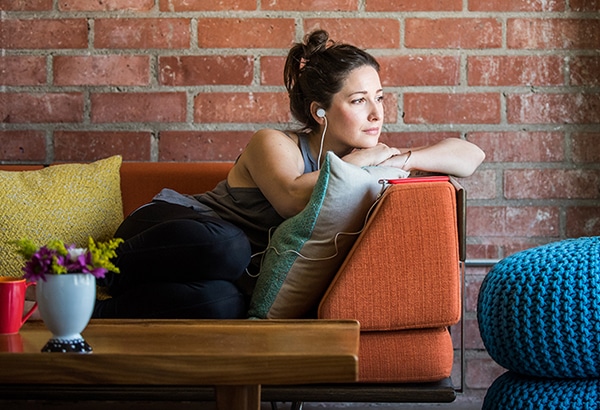 A closer look at our industry research…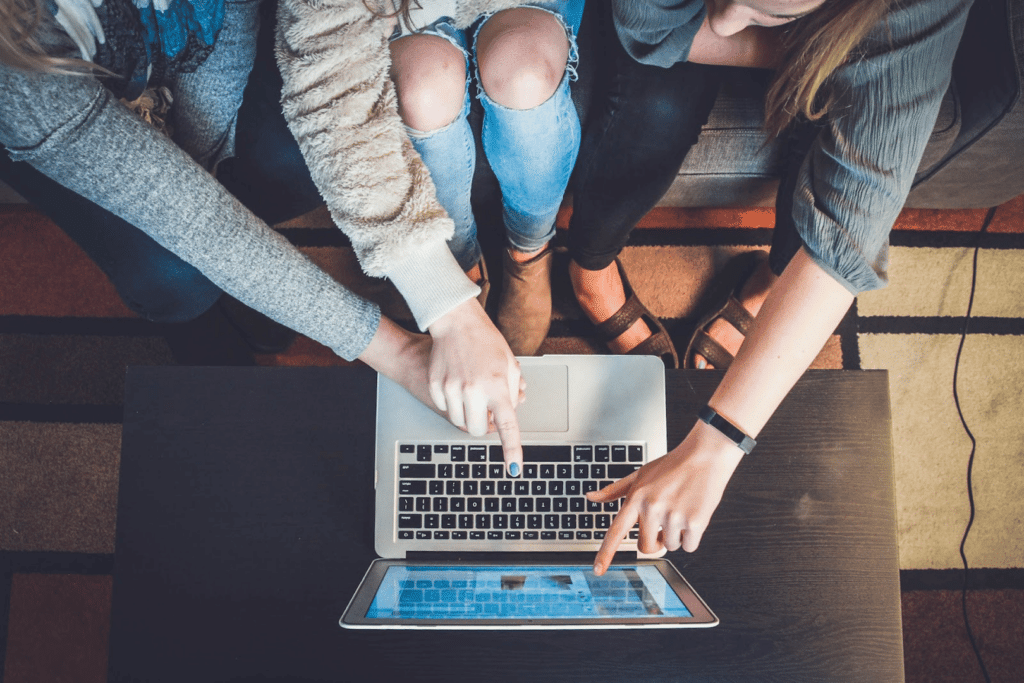 The High Cost of Bad Data
We dive into how quality data issues can steer companies in the wrong direction and waste money.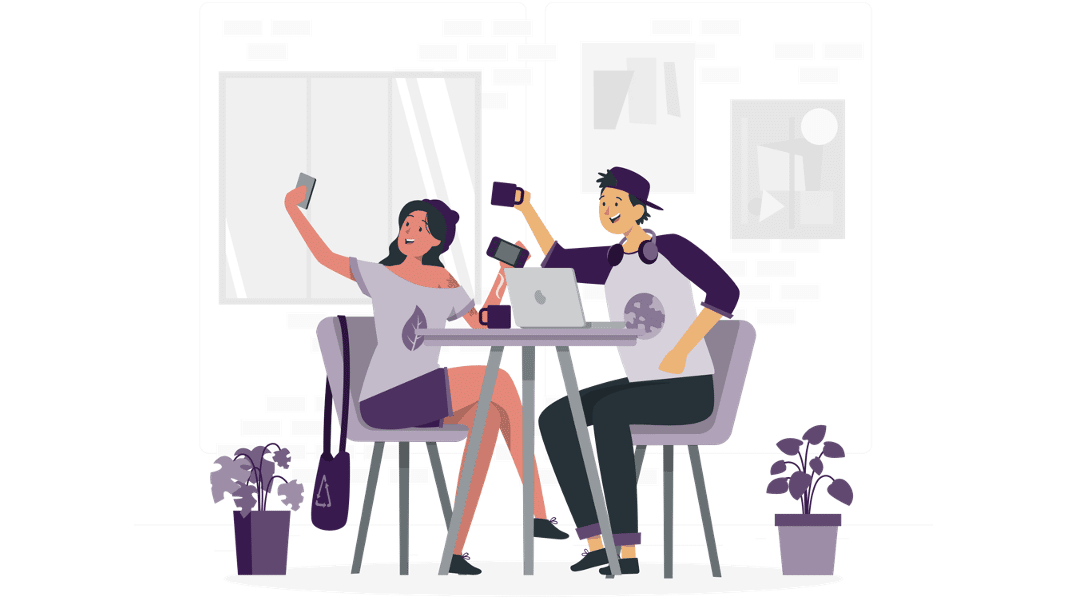 Millennial Consumer Behavior
Check out these 20 stats to understand how this generation approaches personal finance and insurance.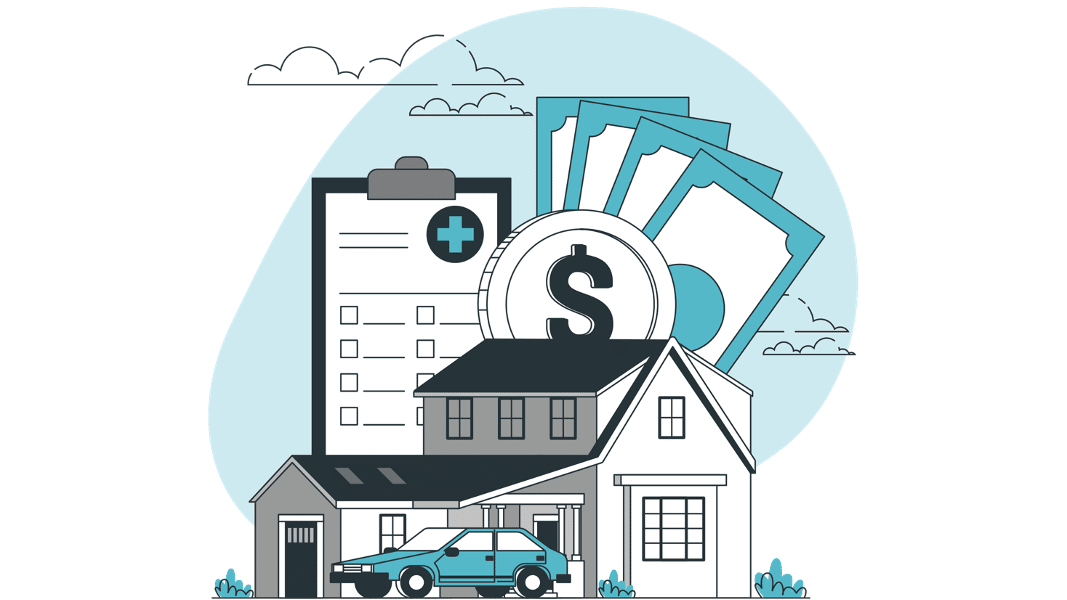 Check out these 23 stats highlighting the different ways these groups protect their homes.
Why top advertisers choose AnalyticsIQ for their targeted campaigns.
Fast
Use any of our standard audiences to target across digital, social, video, audio and TV starting today.
Fresh
Unlike other "list" companies who sell old data, ours is accurate and up-to-date.
Actionable
Whether you want to use an audience offline or online, we make it easy.
Customized
Data doesn't have to be one-size-fits-all. Let us build your next custom audience.
Robust
Our 1500+ data points go beyond basic demographics to understand motivations.
Predictive
Our data helps you get in front of prospects when they are likely to need you most.
Discover our connected solutions.
PeopleCore for B2C Marketing
Tap into the power of the most comprehensive, predictive national marketing database… learn more
BusinessCore for B2B Marketing
Understand companies and their key decision makers with our business marketing database… learn more
Custom Modeling & Analytics
Our team can dive deep into your data, blend it with ours and build custom modeled audiences... learn more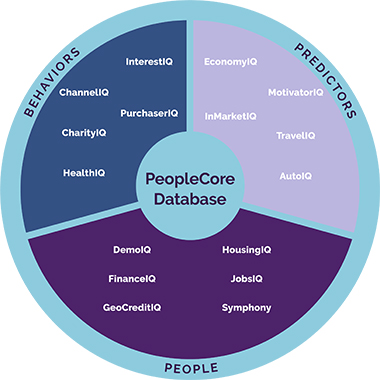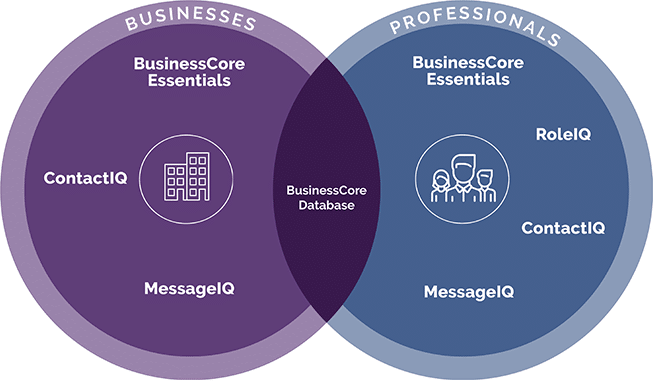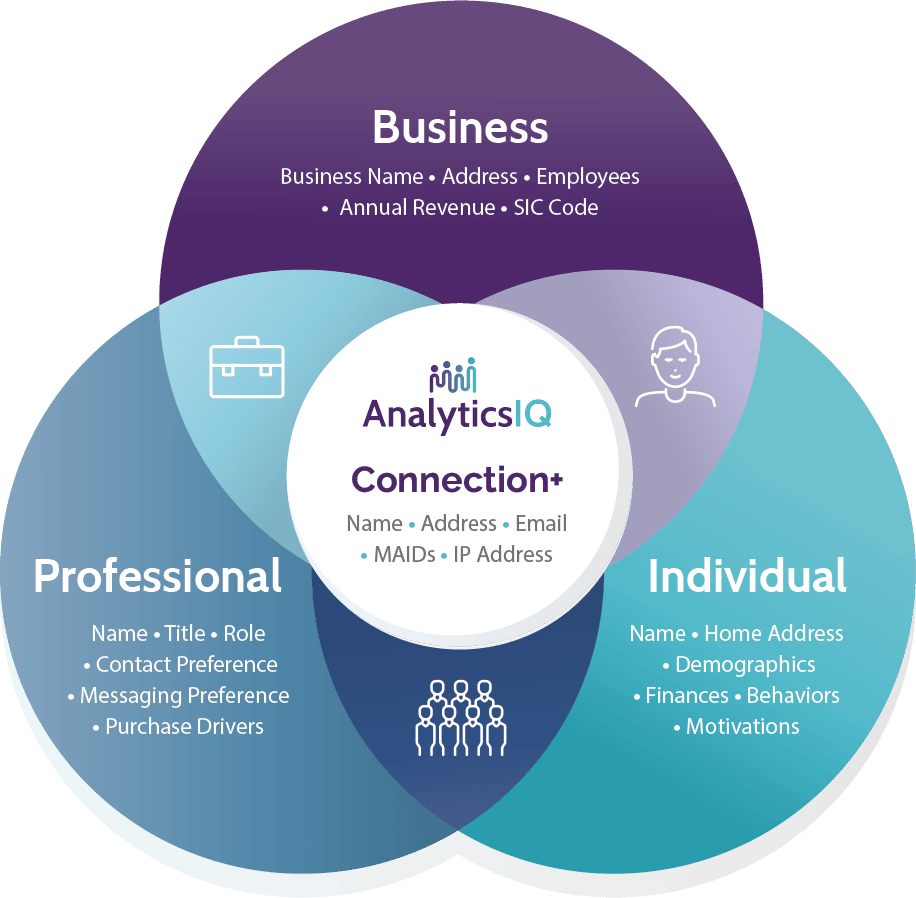 Make marketing data your magnet.
Retain customers, attract prospects and increase sales with the richest, most predictive data.