Why AnalyticsIQ should be part of your identity strategy.
We help organizations across industries with annual data budgets ranging from a minimum of $25,000 to $1M+ and anywhere in between. If that sounds like you, we're excited to design a solution that meets your specific needs.
If you are interested in using our on-demand digital audiences starting today, check out our Partners page for a full list of the data, analytics and ad tech platforms where you can access AnalyticsIQ's audiences 24/7.
​AnalyticsIQ pricing model can align to your business needs. Whether you would prefer to pay a CPM (cost per thousand records) for usage, license the data for specific use cases or lock in a multi-year agreement for additional pricing efficiencies,
let's talk.
Absolutely. Some data companies offer a "one-size-fits-all" approach. Not AnalyticsIQ. We have a robust portfolio of data-driven solutions spanning B2C, B2B and identity data as well as expert services like custom research, predictive modeling, activation and analytics. If you book a strategy session with AnalyticsIQ, your vertical strategist will work with you to create a flexible package that meets your timelines, budget and bandwidth.
Request your strategy session here.
AnalyticsIQ isn't just another "data provider", we're a data innovator. Year-round, our team of PhD's and data scientists are curating the predictive, proprietary data you can't find anywhere else. On top of that, our account strategists leverage their vertical expertise to ensure clients are maximizing the power of this data through powerful, innovative use cases. With this combination of unique data alongside consistent client results, it's no surprise that organizations like the Martech Breakthrough Awards have recognized us as the
"Best Predictive Analytics Solution."
Our pricing approach corresponds directly to the high value we know it can deliver to organizations.
Not only does AnalyticsIQ offer flexible tests agreements, but with annual or even multi-year terms, your team can take advantage of price efficiencies. Moreover, your team will receive ongoing access to our most up-to-date data set and a constantly growing set of proprietary data attributes.
Boost match rates
Improve the scale of your addressable audiences across channels.
Get a full view
Link online and offline identifiers, as well as personal and professional identities and data insights.
Drive conversions
Deliver personalized experiences with B2B2C intelligence.
Keep privacy first
Confidently leverage customer data knowing it's backed by regulatory best practices.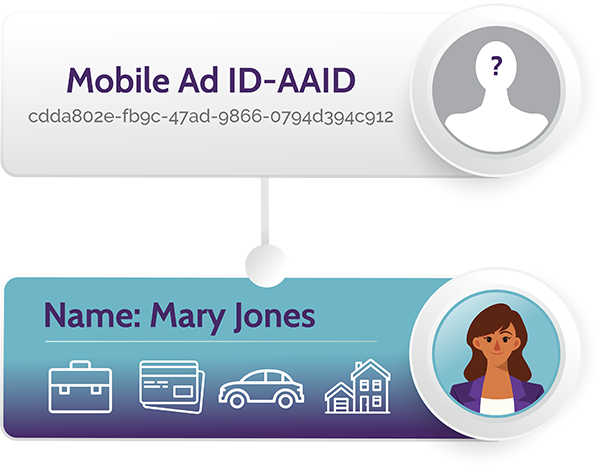 The smallest bits of data can make the biggest impact. 
When you recognize your audience, your marketing becomes addressable, personalized and measurable, and your data science and analytical power dramatically increases. Our national consumer database and business database covers nearly everyone in the country and includes key identifiers like name, hashed email, phone and more.
Create a unified profile of your audience.
Build a single, data-rich view of your customers and prospects, no matter the time or place. Not only does our linkage data include offline and online data points, but our Connection+ B2B2C linkage is unparalleled. No other company comes close in their ability to combine personal and professional data, especially for those individuals leading fast growing companies.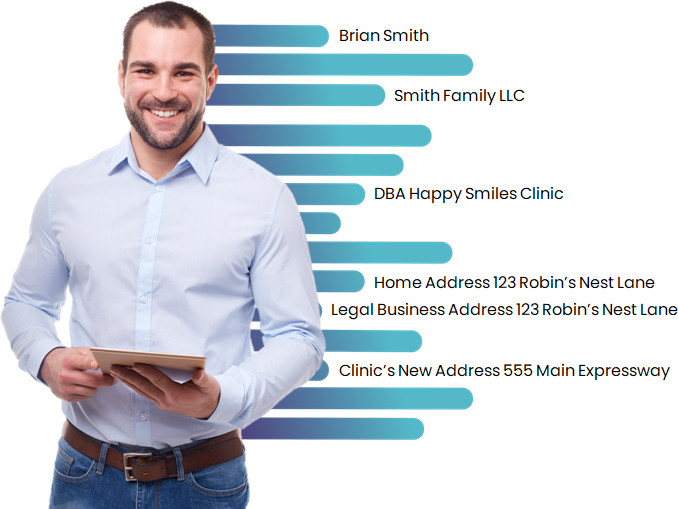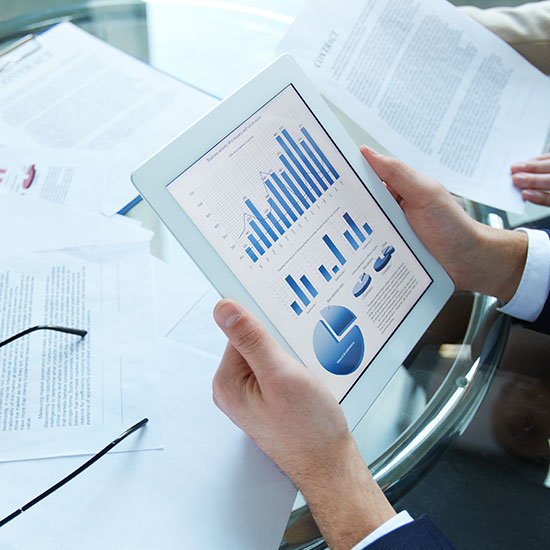 49%
Increase in matches to the brand's identity provider.
Membership brand boosts match rates by nearly 50%.
A national brand wanted to find more of their members across the digital ecosystem. AnalyticsIQ's hashed email (HEM) and phone linkage data immediately delivered a 49% boost in matches to the brand's ID provider.
We'll let our data do the talking.
Complete
Our data linkage and matching capabilities include both online & offline identifiers.
Unique
We've also curated B2B2C linkage data that ties everyday people to their professional lives.
Reliable
Unbiased third-parties continually rate AnalyticsIQ as a leader in data validity.
Secure
Designed with a privacy-first approach, we respect and protect consumer & brand data.
Real-Time
In addition to one-time matches, we can support API-driven initiatives.
Enriched
Once we identify an individual, append any of our 1500+ attributes.
Discover our connected solutions.
PeopleCore for B2C Intelligence
Tap into the power of the most comprehensive, predictive national marketing database… learn more
BusinessCore for B2B Intelligence
Understand companies and their key decision makers with our business marketing database… learn more
Connection+ for B2B2C Linkage
Accurately tie growing businesses to the everyday people who lead them with rich linkage data... learn more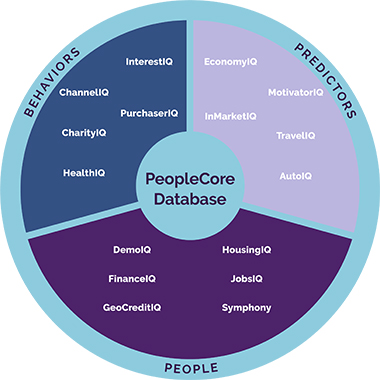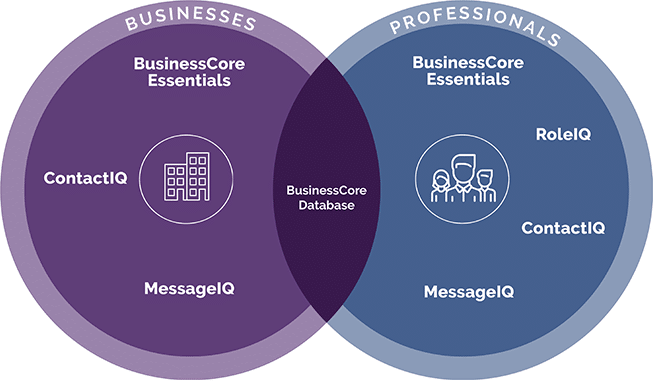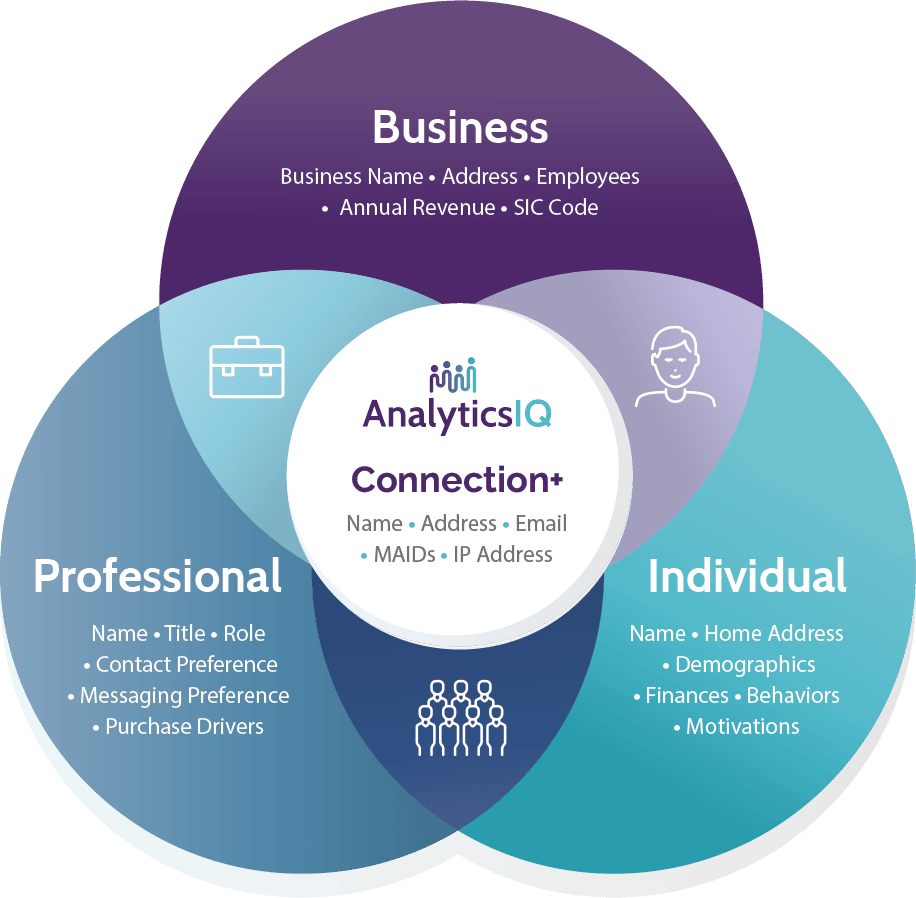 Capture a full audience view. Any time. Any place.
See how AnalyticsIQ can complete your customer view with our unique suite of identity intelligence and linkage solutions.